Here's a lil guide for a Tanking Build for a Pally

Skills At 50 - Pure Tank: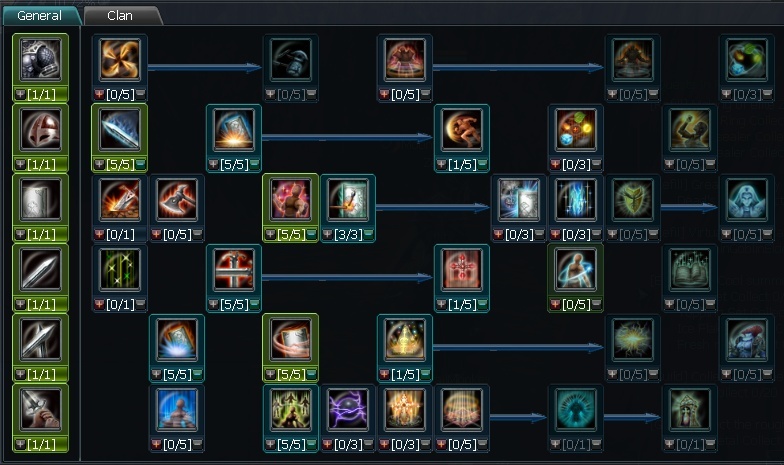 The currenty problem with pally is some of the skills are bugged, and do alternate functions. Some just simply dont work; others are totally useless. Hopefully you'll come out of this with half a clue as to what to spend points on.
Paladin: LVL 10 - 30 Skill Explaination
1.
First thing to do here is to get that lovely shield icon up on the far left of the skill tree - why? Because as a pally all your skills rely of a shield, not a 1H sword - its the shield that makes them. So get this as soon as you can.
2.
This is the next skill to max, it should be done ASAP, this passive adds to you attack power (needed since were Tanking), and at level 5 will give you a further 30 (I reckon its more) Attack Power - Woot!

3.

This skill is the backbone of your offensive abilities, its a 3 strike (2strikes below lvl 5) pretty heavy hitting skill. Pre 30, you'll only want this to lvl 3 or so, because of the higher mana consumption (yes theres the tradeoff damage = mana

) but an important skill to have. Unfortunaylt to activate your level 50 skill, you need to max this, and the difference between lvl 4 and 5 is immense - purely through mana consumption, with roughly 1700 mana you can run a boss in GV 40 or 45 without having to pot (
probably
) this is with Holy Light at lvl 4, the mana cost doubles at lvl 5, to 126 (120 with clan skill for 5% less mana). As such i strongly advise you to max your Aicon, then quickly move onto leveling your Tairi for that extra mana boost.
4.
VITAL! This is your luring skill, the class taunts really suck here atm as they add too little fame to hold onto aggro if used (thus why were not wasting time with them). Instead this little beauty gives you a ranged attack, with decent damage (similar to a normal attack but slightly higher). But works as a good lure for GV or as a basic skill (due very low mana usage).
5.
This is important to remember: this skill is needed to unlock a very useful lvl 50 skill. But the effect is bugged! Its meant to pushback the enemy - instead it glitches and doesnt show the pushback having occured.
However all is not lost! The damage is comparable to your ranged lure skill and the glitch causes this skill to act more as a stun than as a pushback - so can be very useful soloing (Bosses in GV are immune to it). The glitch does push the mob back but not on your screen - this causes your melee skills to glitch for distance and allows only normal hits and ranged skills to work properly for the duration of the effect (shown on the target info).
It is easy to overcome using WASD controls as you simply have to run towards the mob
and keep trying to use melee skills (or run forward a few paces - this does cause target facing problems at times but shouldnt cause too much bother).
Advice: in a party for GV advise your melee members you may use this skill - courtesy would be appreciated, and advise them as to how to overcome the glitch. Since ive already stated bosses are immune, this becomes another low mana skill.

6.
Your final useful skill from the lvl 10 - 30 section! This is your first aura and is fairly useful to have at low level; but is regarded as a PVP based skill since there are other Aura's later in the skill tree with far greater effect for PVE gaming. this simply adds attack power to yourself or to your party. it cannot be combined with the lvl 30 aura - so you have to choose (but is always useful to have for a little extra damage).
These are themost useful skills for a paladin to have , I personally havent bothered with getting any of the others, since theyre useless or provide too little effect for their cost.
More Information can be found by chatting to me ingame (IGN - Zerek/ Vigil ) or by using this forum post from CorrupteD:
http://forum.gamerkraft.com/default.aspx?g=posts&m=34004
*sighs*

preaching to the masses